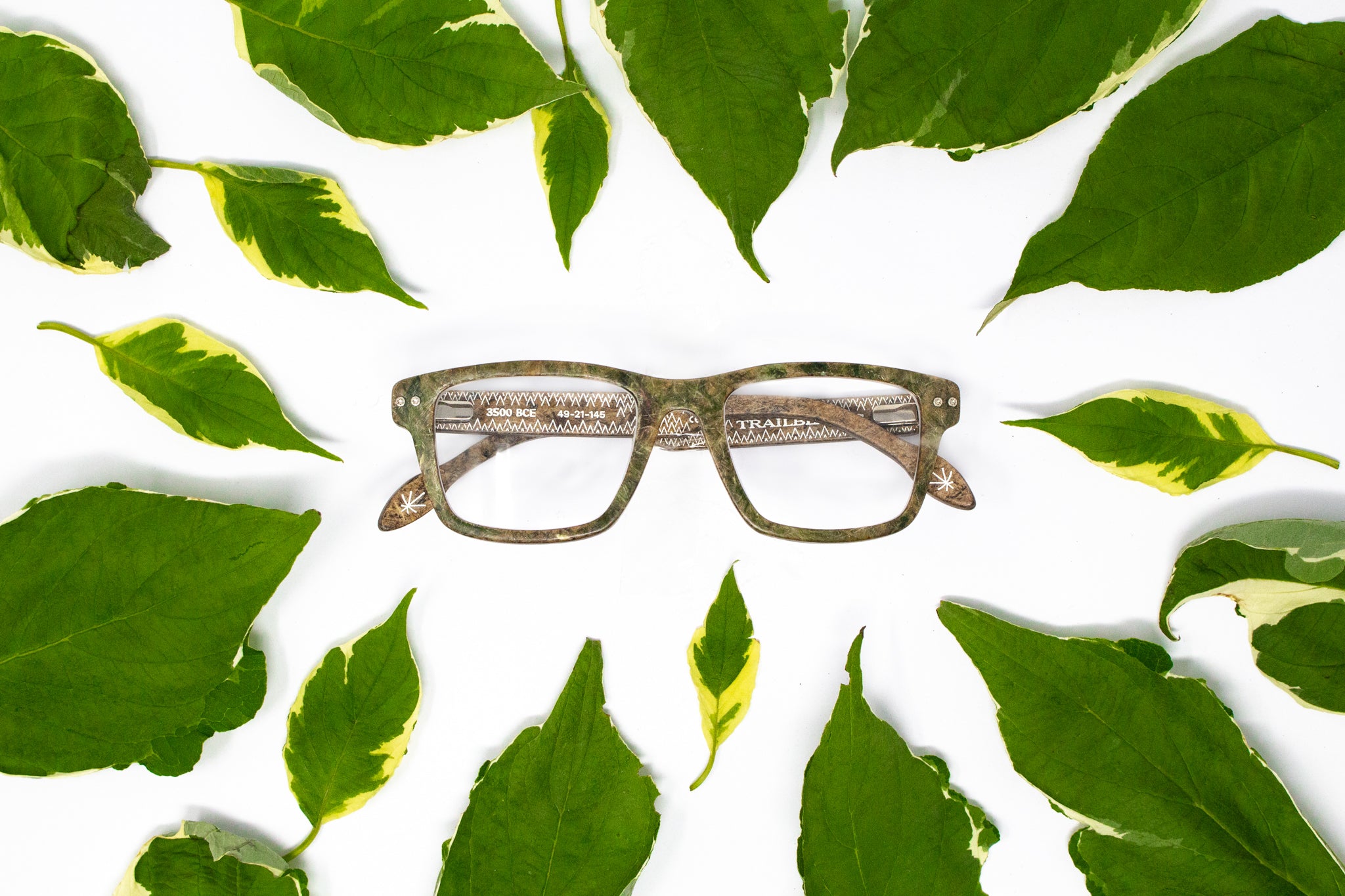 The Trailblazer Collection: A walk down the trail blazed by hemp through time.
Next up in the Superfood Series is the Trailblazer Collection. When experimenting with organic green pigments for our dye, the hemp fibres were immediately reminiscent of the natural colours of the hemp plant. Thus came the idea to use this collection as an opportunity to take a step back and look at the history of hemp. All three names in the collection are noteworthy dates in the development and rise of the super crop. The collection names span from the first date it was used in 8000 BCE to the date it became widely used in the UK (400 CE). Additionally, all frames in this collection will feature minimalist artwork that represents an overview of a hemp crop and the connection this specific collection has with nature, with each frame including  a simplified depiction of a  hemp  leaf on the temple tip.
Hemp is a supercrop that has been used for a diverse range of purposes since at least 8000 BCE with fabric, building materials, medicine, food, and biofuel just being a few examples. As it thrives even in poor soil and with little water, it has been used throughout history as a rotational crop due to its  ability to replenish the soil with valuable nutrients.  Additionally, the crop has extremely fast growing cycles meaning it can harvest higher yields multiple times per year. With this considered, it is no surprise that hemp has been found everywhere from Tokyo to Italy, Hong Kong to Brazil.
Though we tested various methods and superfoods to achieve this colour, we found that the chlorophyll out performed in ways such as colour fastness and pigmentation- allowing us to find the optimum  results. 
Many of us are familiar with chlorophyll as being the green pigment in leaves and, along with light, is how plants grow. Specifically sourced from arthrospira platensis or Spirulina, chlorophyll is a fantastic source of a natural green dye and has been used throughout history. Additionally, much like the other dyes represented in our upcoming series, the benefits of such a chemical goes far beyond just that of natural dye, including antioxidant properties that qualify it as a superfood. 
Green as a colour for our frames has so many relevant connotations with regards to sustainability and nature. Also hemp in all its many forms means a lot to individual people for a variety of reasons, and green is typically the colour that comes to mind when thinking of the super material. Over the years we have had many requests for a green coloured frame and as such we are ecstatic to be introducing the colour and believe it is a perfect fit within our whole concept.
This green range is dedicated to the history of hemp; the pioneer in textiles, a powerful medicinal plant and a crop that can help solve the climate crisis. Hemp is an unparalleled medium that is as relevant today as it was thousands of years ago and these names clearly show its importance through time;
8000 BCE


Through our Trailblazer Collection, we wanted to highlight the rich history  of hemp throughout time, and where better start than at the beginning? The first traces of hemp usage were found to be in 8000 BCE in the Asian regions that are now modern day China and Taiwan. When you consider that human agriculture started about 10,000 years ago, you can therefore assume that hemp was one of the first agricultural crops- truly something to celebrate. We have chosen a

flat top D-shaped frame which has a larger surface area around the bridge to highlight the fibres.

 
3500 BCE


Archaeological evidence has shown there was extensive use of hemp  across various aspects of Ancient Egyptian life, dating back to 3500 BCE. It was found to be included in the burial clothing of Pharaoh Akhenaten and crucial in the successful construction of the Great Pyramids of Giza.  Ancient Egyptian texts class the plant as sacred and a part of their culture, and we aim to  acknowledge this with our 3500 BCE Trailblazer frame. Fittingly, this frame is in our popular classic rectangular style frame, a shape that fits almost all face shapes and sizes.
400 CE


After being brought to Britain from Asia during the beginning of the millennium, hemp became an incredibly valued crop. We have identified hemp findings across the UK as far back as 400 CE in Roman and Anglo-Saxon sites, thus earning a name amongst our Trailblazer Collection in recognition of the pivotal year in which hemp saw widespread success across the UK and Europe. This time is embodied in our  frame design that has a stylish panto  shape, slightly enlarged temple lugs and a keyhole bridge.
We are all proud of the Trailblazer Collection and believe it fits in incredibly well with the rest of the Superfood Series, and the use of organic green dye really brings the naturally brown fibres back to life for this collection. The success and historical dependence on hemp is an essential part of our company story and is inspirational in our mission to bring it back to mainstream use. 
The last reveal will be of our Holy Mackerel Collection. These frames are dyed with a special spirulina that has been specially chemically stabilised to work well in a dying process! The end result is a stunning multi-toned blue fibre that is well suited for its nautical themed designs.
To explore the Superfood Series optical selection click here and to view other sunglasses click here.