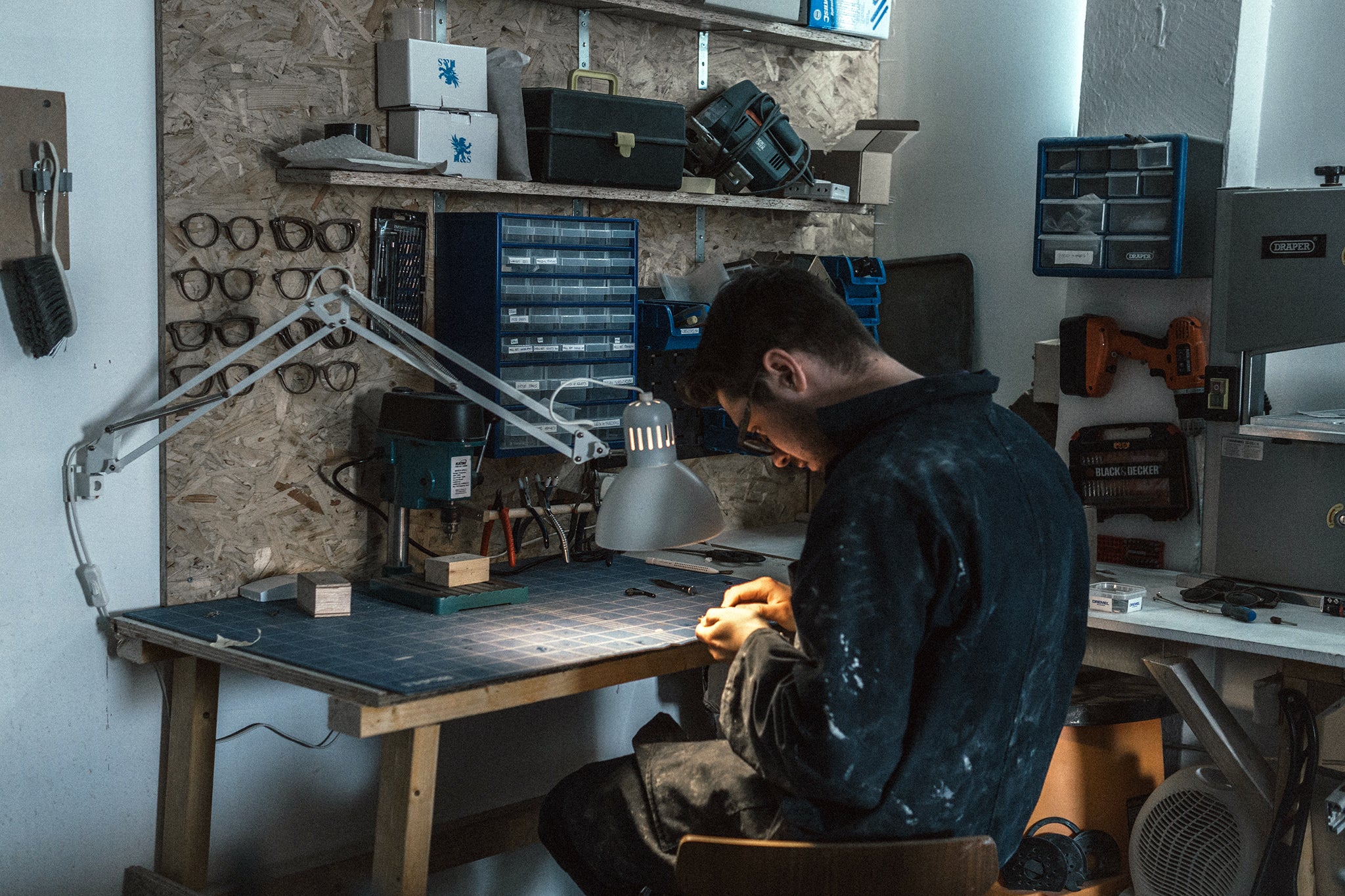 Handcrafted from Hemp: From Fibre to Frame
All Hemp Eyewear frames are crafted by hand using our sustainable technology, organic materials and traditional artisanal techniques. Our leading edge technology and manufactory is based in Edinburgh, Scotland. This is where our eyewear is made.

Every single screw, rivet and hinge is marked, drilled and assembled by a real human being, not a machine.
We only use precision-engineered components made from the best materials — if it's not made from hemp, then it's made from the highest-grade titanium or alloy to guarantee long-lasting performance and quality.
Hemp Eyewear does not mass produce thousands of frames through injection moulded plastic. We value craftsmanship, attention to detail and sustainable production. This takes more time and the result is seen in our quality. 
Better for you and better for the planet.


Step 1 Material processing 
Our hemp is grown organically and comes from France. Our processing of organic hemp uses leading edge sustainable technology. It's as clean as it gets. The only byproduct from this process is water vapour (H2O).
Raw individual fibres are transformed into solid material by combining them with a specialised eco binder developed for high performance. 
The result is a very strong and incredibly lightweight material perfect for comfortable eyewear. Our hemp material has comparable properties to carbon fibre, but we have developed a sustainable version!
Step 2 Cutting Shapes 
We design, process and craft our eyewear in house. In our manufactory we have state of the art computer controlled machinery which is used to cut out our unique eyewear shapes.
Step 3 Handcrafting 
This is where we put the real work in. Our expert craftsmen spend weeks transforming the rough shapes into eyewear frames. Everything is done by hand.

We use handheld rotary tools and fine grit paper to achieve an incredibly smooth finish. This step is where we bring out the beautiful depth and natural look of our hemp material.
Step 4 Adding V-Grooves
Every eyewear lens needs a `v-groove` to be glazed into. So we have a custom built router which we control by hand in order to make the grooves. This step requires a lot of skill from our craftsmen as the router is sharp and moves at over 6000 rpm. 
Step 5 Waterproof coating 
Our material is inherently waterproof after the first step. But we make sure to achieve the best material finish possible by coating our frames in an eco-friendly resin. The mixture is made from 70% natural paste and 30% recycled resin from manufacturing byproducts.  
Step 6 Hand Polishing
Hemp is a natural material. The fibres form unique patterns which makes each frame one-of-a-kind. No two pairs are alike. We love this fact about our material so we spend hours every month hand polishing every single frame to achieve the perfect finish. 
Step 7 Assembly
Like we said - every single screw, rivet and hinge is marked, drilled and attached by hand. There are some things machines can't do as well as humans, and this is one of them. 
Assembly by hand ensures quality control and allows our craftsmen to adjust each frame to achieve the perfect fit.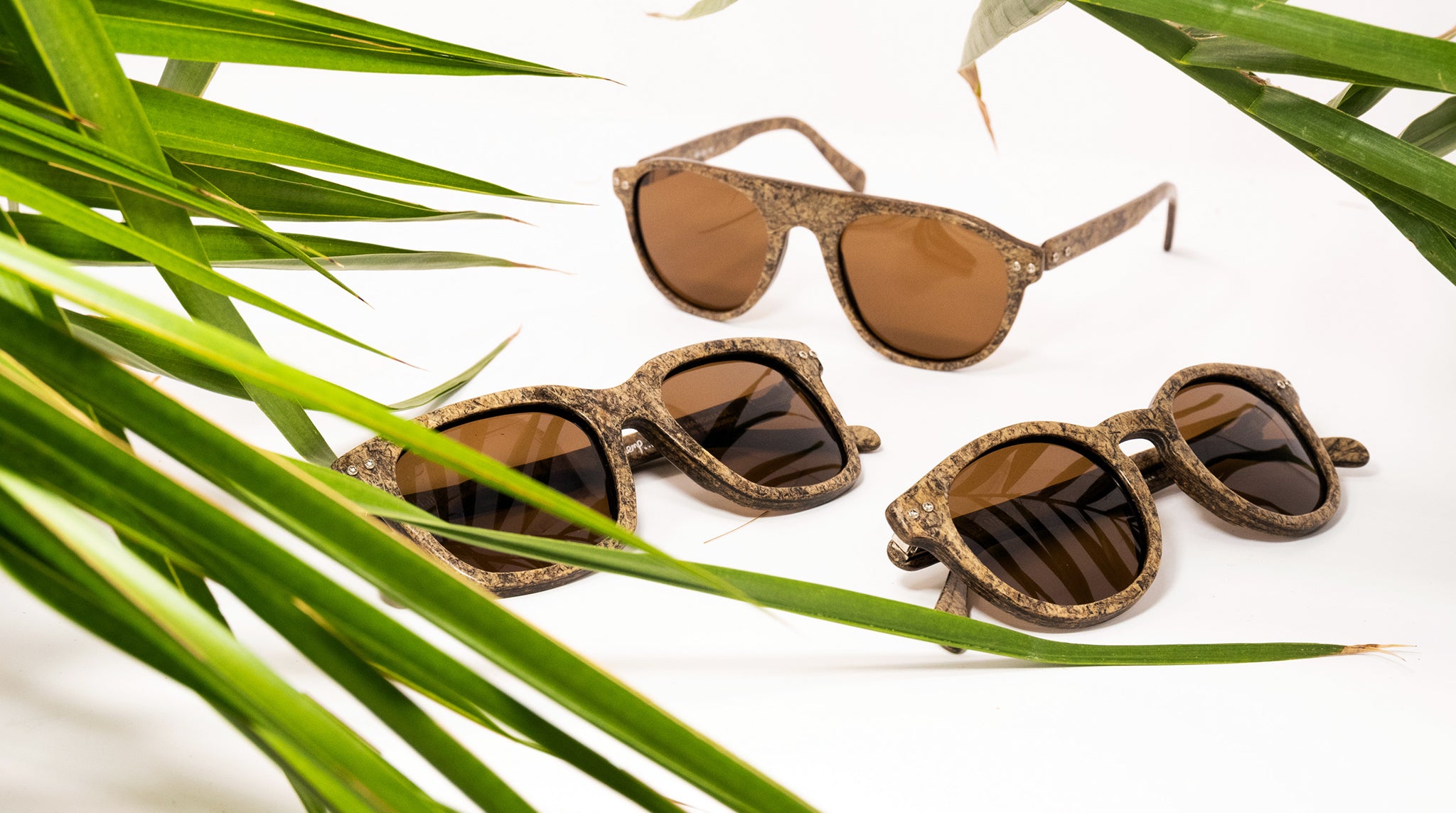 The classic collection is our entry level range. Each frame is crafted to the highest quality, made from our signature hemp material and comes with 100% UV protection lenses.
Read more